At Home with the Harlands
Christmas 2005
<![if !vml]>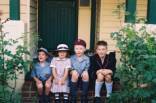 <![endif]>
Christmas again already? It seems to come earlier each year! It has been another eventful year, with the boys all moving to a new school environment, and Emily moving from pre-school into school itself. With 5 of the family at Haileybury either as students (Joshua, Timothy, Emily, Jeremy) or teacher (Linda), we could almost make a claim for the school to be renamed Harlandbury …
<![if !supportEmptyParas]> <![endif]>
<![if !vml]>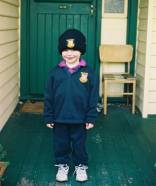 <![endif]>  Jeremy has had a great time in Reception. He now has to wear a uniform, but seems to thoroughly enjoy heading off in the mornings with the others. He has made lots of new friends, and is always keen to get to the classroom to show them something new. He has become quite a veteran at show-and-tell, and is never short of energy. He is a keen consumer of books, and has enjoyed the Japanese language sessions run by the mother of one of his classmates. We have regularly had to sing the Konichiwa song and Twinkle Twinkle in Japanese! He has a manic interest in bike-riding, and recently asked for his training wheels to be removed. To our surprise, he managed to ride on his own very quickly and very well, thus unleashing a two-wheeled terror upon the local footpaths and bike tracks. Braking, however, is something that gets a little less practice than perhaps it should …  
<![if !supportEmptyParas]> <![endif]>
<![if !vml]>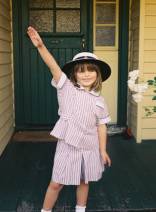 <![endif]>
Emily has just completed her first year of Prep and has thoroughly enjoyed it. She is very enthusiastic about doing her homework, often insisting that her reader be done as soon as she gets home. She has taken to the academic side of things like a duck to water, and has been keen to tell anyone within earshot about what she has learnt. She had a great time at the recent school Christmas concert, with several songs done by a massed choir; somehow, it was not all that surprising to see that she ended up seated in the middle of the front row. Having come along to many of Timothy's soccer matches last year, she was keen to take part herself, and had a most enjoyable season in Goal Kick, an informal soccer skill session for the under 7s. She was very proud of her trophy at the end of the season, and was keen enough to ask if she could join a team next year. Given that she enjoyed some karate lessons as well this year, we hope she will never get the two mixed up …
<![if !supportEmptyParas]> <![endif]>
<![if !vml]>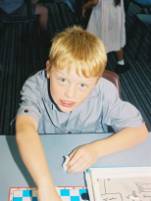 <![endif]>
<![if !supportEmptyParas]> <![endif]>
Timothy has adjusted to life as a Haileybury student very well. He has relished the smaller class sizes and more structured program, and he has also (for the first time in the experience of any of our children) had a male teacher. He has made several new friends, and is now very settled. He has grown a lot and has gained a lot of confidence from being one of the older ones in the class. He was very proud that he won a few races at the school sports day. Together with Joshua, he went to an after-school chess club, and, as in most things, has carefully observed what is to be done. Hence be very careful if he challenges you to a game! He continued with his soccer team in the winter, which involved a bit more travelling around than last year. He is growing more independent, and is keen to make solo sorties to the local shops. He is also quite adept at giving his younger brother a piggyback, which often makes it seem that there is a double-headed orange-haired monster zipping around …
<![if !supportEmptyParas]> <![endif]>
<![if !vml]>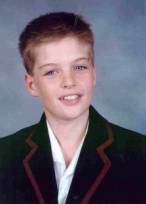 <![endif]>Joshua has taken to Year 7 quite happily. He has continued merrily on his academic way, ending up with a Distinction prize at the end of the year. He has enjoyed the more varied schoolwork, and particularly the study of Japanese and French. He has had to learn how to look after a blazer and to knot a tie, but it hasn't seemed to affect his casual demeanour. Often his parents think this attitude is a bit too casual, especially when it comes to getting homework done on time! He has continued to see his friends from primary school, especially as he has been able to combine school sport (including a trip to Geelong, only to get a tennis ball in the eye) with a local basketball team made up of several old classmates. James ended up coaching the team towards the end of the year, and Joshua is still unsure if this is good development or not! He thoroughly enjoyed the school production of 'Guys and Dolls', as well as a recent week-long adventure camp, and is also keen on karate.
<![if !supportEmptyParas]> <![endif]>
Linda has had a stimulating year, with an increase in responsibilities for reporting and smaller timetabling jobs. This has meant less of some other activities, such as sports coaching, which seems to suit (although she was rather proud to be asked to fill in for the First's Tennis coach when he was on leave). It also means that you can always tell when it is reporting time, as she comes up with all sort of examples that result in "Did someone really write that?" Our children will have absolutely no secrets whatsoever when it comes to reports! Her Maths students again did well in their VCE results this year. With girls commencing into the Senior School in October of the coming year, it looks like this is a good time to be at Haileybury.
<![if !supportEmptyParas]> <![endif]>
James had a minor change of direction this year, with more responsibility for offshore teaching than local, and hence saw less of the inside of the classroom (but no less of the inside of aeroplanes). The offshore work saw him visit Kuala Lumpur twice (where he now knows which markets sell which children's things fairly well), and Vietnam (in conjunction with the wife of one of the teachers from Haileybury --- it really is a small world!) as well as a conference trip to Utrecht and Edinburgh. It has been six years since the previous visit to Auld Reekie, and it has certainly become a more popular destination; it now feels like a bigger city then it did all those years ago.
<![if !supportEmptyParas]> <![endif]>
With best wishes from all of us for a refreshing Christmas and a prosperous New Year,
<![if !supportEmptyParas]> <![endif]>
James, Linda, Joshua, Timothy, Emily & Jeremy Harland
<![if !supportEmptyParas]> <![endif]>
<![if !supportEmptyParas]> <![endif]>
<![if !supportEmptyParas]> <![endif]>
<![if !supportEmptyParas]> <![endif]>